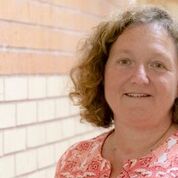 Syma has deep roots in Groton, descended from a family that has lived in the town for over a century. She has lived here with her husband and 3 children for over 25 years. She teaches environmental and marine science and policy classes at the University of Connecticut on the Avery Point campus and is the faculty advisor for the Avery Point EcoHusky Club.
She has been active in her community for over 20 years, serving as: the Moderator (2017-current) and Representative (2005-2011, 2017-current) on the Town of Groton RTM; Governor-appointed member of the Eastern Long Island Sound Advisory Council (2008-16); Chair of the Long Island Sound Assembly (Eastern Region) (2011-2016); member of the Town of Groton Energy Efficiency and Conservation Committee (2012-2016); member of the Groton- New London Airport Advisory Group since 2000; Vice Chair of the Town of Groton's Climate Change and Sustainable Community Taskforce (2008-2011); member of the Town of Groton's Shellfish Taskforce (2006-2010); member of the Groton-New London Airport 20 Year Master Planning Committee (2008-2014); member of the City of Groton Conservation and Inland Wetlands Agency (2002-2005); member of the City of Groton Harbor Management Commission (1995-2000); President of the Jupiter Point Neighborhood Association (2002-2004).
Locally, Syma has been involved with numerous education and conservation efforts, helping to launch the Catherine Kolnaski School's Explorer's Club for 4th and 5th graders, working on open space conservation. She serves as Chair of the Atlantic States Marine Fisheries Commission's Committee on Economics and Social Science and is currently the immediate past-President of the American Fisheries Society's Socio-Economics Section, board member of the Southern New England Chapter, board member for the organization Eating with the Ecosystem. She obtained her PhD. and three master's degrees from Yale University, a MS degree from the University of Alaska, Juneau, and a BA from Williams College.