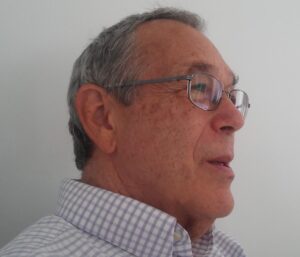 I'm Matthew Shulman. I am a candidate for a 2-year term on the Groton Schools' Board of Education. I'd like to share a little about the perspective I take on public education my past experience in teaching and education policy development, and my post-retirement hospital chaplaincy. But more importantly, I'd like this bio to encourage you to contact me about your hopes and concern for our children. I'll need everyone's input to help guide my reflection and decision-making process if I am elected to our Groton Board of Education. My email address is Matthew4GrotonBoE@gmail.com. Please consider asking for a yard sign!!!
My wife and I live on Valley Road up the block from our son Jean-Philippe, who works at EB. Our daughter Zara and our grandsons Zachary & Luke live in SE Vermont; she works at Amherst College. Aline taught elementary school in France before we met and taught French once in the U.S. My career was in education program design, writing, teaching English as a foreign language in France, and post-retirement hospital chaplaincy. I carried on many of these activities as a small business owner.
For the past year, I observed School Board and committee meetings via ZOOM. I also spoke individually with every current Board member about their successes and frustrations… and what each sees as future hopes and challenges. Watching the Board at work, I saw members who didn't hesitate to argue policy differences; but did so with courtesy and mutual respect. I will emulate this cooperative approach.
To enhance District excellence, I'll be led by two quotes – one on content; the other on process. Albert Einstein's view of public education is my guiding star: "The aim of education must be the training of independently acting and thinking individuals." On process, Justice Ruth Ginsburg shared advice for anyone going on a public board: "Fight for the things that you care about, but do it in a way that will lead others to join you."
At the same time, several topics motivate my candidacy. Without any hierarchy, they are:
Academic Achievement: Before COVID, our District was steadily improving basic educational outcomes while developing an incredible International Baccalaueate program that, together, will lift all students. But, but there's no doubt that last year's suspension of in-person teaching impacted our students educationally, socially, and emotionally in ways we know … and in ways not yet clear.

Your Board, Superintendent, teachers and support staff have already launched aggressive summer academic recovery programs. These will continue. Yet, evolving variants seem to be more contagious to young people than the original disease. How this plays out in the future is an unknown that we'll need to face together.

Financial Literacy: Whether one loves, hates or is indifferent to our economic system, students' ability (or, inability) to manage their personal finances will affect their quality of life.
Civics and Community Service are not instinctual but learned. We can cultivate adults who participate in civic life beyond personal needs by stimulating logical thinking and ethical awareness in our curricular and community service requirements.
Grammar has largely disappeared as a national curricular focus. The ability to construct and share ideas in English with reasonable precision is essential to professional and personal success.
Well, that's it for an introduction. My first job is getting up to speed by listening to you and, hopefully, learning from you. I'm available to meet with whatever parent, civic, social, labor, sports, faith community or other group that has an interest in giving Groton students a firm foundation for personal success. So, if you wish to share your personal feelings, opinions and goals to benefit our students … or simply ask a question … I invite you to contact me at Matthew4GrotonBoE@gmail.com. [If it's not a true emergency, allow me 24 hours to reply.]