Juliette is a lifelong Groton resident. She grew up in Poquonnock Bridge as the oldest of six children and is a proud mom and a graduate of Fitch High School, class of 1991. She is a passionate advocate for our youth and for public safety.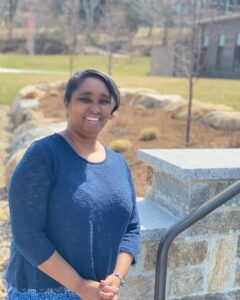 Juliette has served her community for over 14 years as the Administrative Secretary for the City of Groton's Chief of Police. She also volunteered with the New London Youth Talent Show. Both of these roles brought into focus for her the need to build bridges between our youth and our police departments. As such she served on the Health, Education, and Safety Satellite, which is a collaboration between Branford Manor, Catherine Kolnaski Magnet Elementary School, City of Groton Police Department and UCONN Avery Point. In her spare time she has also volunteered in a variety of capacities; at her church, Groton Bible Chapel, as the secretary for the City of Groton Youth Advisory Committee and she is a member of the NAACP and the Elks Club.
Juliette has a Bachelor's Degree in Legal Studies (Cum Laude and Alpha Beta Kappa) and both of her daughters are currently enrolled in college. Additionally, she has recently attained her certification as a Connecticut Municipal Official and is currently a Groton Town Councilor. Previously she was selected served as a Representative Town Meeting (RTM) for District 2 for four years.
Juliette lives by the mantra of "Community First" in that she believes that when she helps raise the river, all boats will float.