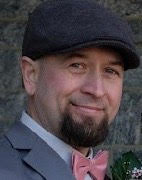 I am a 46 year old stepfather of two boys in the community, current RTM District 3 representative and Education Committee member running for a seat on the Groton Board of Education. I have served on the RTM since 2019 and have been a state-certified teacher since 2018.
During my time on the RTM, I also served as the chair of the Civilian Oversight Research Committee, a bi-partisan body charged with the responsibility of crafting a report on what options might exist for the Town of Groton in relation to establishing a body that would provide some level of oversight and increase community connections in relation to the police department.
I grew up in a household that valued education, achievement and a disciplined work ethic. My mother has been a certified, working teacher for over 30 years. My father served in the Navy on surface ships and submarines over the span of 20 years, retiring as a master chief.
While my address of record as a child was not in Groton, I have spent a great deal of time in town and growing up in the region as a military dependent and then as a college student attending classes at Avery Point.
Now, as husband to Portia Bordelon and stepfather of her two sons, I have lived here for over five years. I have always been interested and active in matters of public policy and education.
Although I went to Montville for elementary school up through seventh grade, I attended Fishers Island School for eighth grade and all of high school, graduating in 1993. It was there I discovered how the benefits of smaller class sizes and individualized instruction methods could combine with rigorous standards to produce positive outcomes.
After high school, I continued carving out a non-traditional path of my own, as I chose not to attend college, but to foray into the workforce, find ways to travel about and broaden my world perspective.
As a result, I embarked upon a nearly twenty-year career as a professional mariner and licensed captain working on a variety of traditional-rigged sailing vessels, commonly known as tall ships. Through these experiences, I developed a passion for education working as crew or captain aboard a number of sail-training vessels.
As a I transitioned out of the professional maritime life, I carried my passion for education ashore, earning my degree from UConn, completing the Alternate Route to Certification and becoming a state school teacher providing GED instruction for the Connecticut Department of Corrections.
If elected to the Board of Education, my goals would include increasing transparency, accountability and accessibility; helping craft policy and practices to close achievement gaps; along with improving workforce readiness programs.
First and foremost, I would make a motion to ensure that all future Board of Education meetings, beyond the end of any COVID protocols, are broadcast live, recorded and posted on GMTV afterwards. Also, I'd push to increase citizens' petitions to twice a month.
I am in favor of further developing financial literacy instruction, coordination with local employers and trade unions to open up opportunities for apprenticeships and internships.
I'd also like to incorporate pipeline programs for organizations such as the ROTC, Civil Air Patrol, Merchant Marine Academies and Peace Corps, among others.
I would also like to see more coordination between the Board of Education, Town Council and RTM to develop and execute a master plan to systematically improve and maintain all school and community sports facilities.
The three bodies could further work to open up enriching opportunities for music and art students to interact with the community at large.
All that being said, I think the primary responsibility of any elected official is to respond to the concerns of their constituents in a constructive and attentive manner.
However, in regards to education, expedience should never take priority over equity and empathy. I believe that public services like education should not be based on "for-profit" business models that would be more appropriate in the private sector.
In that light, considering the Board of Education Budget is close to 70% of the town's total budget, I'm interested in exploring options to find better efficiencies within the budget that would allow the Board to manage money in a more long-term, mission-driven fashion.
For example, a few ideas could include a non-lapsing fund for unexpended money at the close of each fiscal year, a fiscal management and maintenance plan with a goal of a 100-year lifespan for our school buildings, and a critical look at administrative costs.
The explicit purpose for finding these efficiencies and savings would be to re-allocate the funds towards improving support for staff and students.
My priorities would be decreasing the student to teacher ratio by adding more teachers and classes; improving quality and quantity of resources for students and ensuring free lunches for all, moving forward.
I'd also like to explore how to expand extracurricular activities such as music and arts in new and exciting ways. One possibility could be creating a connection between the middle school concert band and the high school's marching band in the form of a feeder program, culminating with eighth-graders helping to fill out the ranks of the marching band during games and competitions.
I look forward to discussing these ideas and many others with my fellow Board Members and the community at large. I hope to earn your support and your vote on Tuesday, November 2nd. You can find my name on the ballot in position 13A, alongside my fellow Democratic Candidates.