Hello Groton Democrats!

Help Keep Groton & CT BLUE in '22!!!
OCTOBER 22, 2022 PIZZA, PIE, and POSTCARDS
Come to HQ this Sat. Oct. 22 from 11 to 1 for a party, refreshments, good company and to help us finish writing postcards to Groton voters.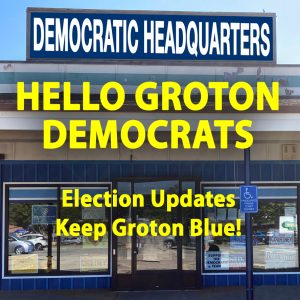 With only three weeks until the election on Tuesday, Nov 8, we're shifting into high gear. HQ is open near the Post Office. Come see us for lawn signs and candidate information. HQ is open at a minimum Monday-Friday 10-12, Saturday 10-1. We are open more hours—you can call ahead to see if someone is there. If you can volunteer to help us keep it open more, please do! The address is 72 Plaza Court. The phone is: (860)460-8328  Sign up at HQ. Or leave us a phone message.  
Make a few phone calls to support our candidates at HQ on TUES, WED, or THURS nights from 5:30-7. Or get a list and call from home. Offer to join a candidate for some door-knocking.
Sat and Sun Nov 5 and 6 is GOTV (get out the vote) weekend! HQ will be bustling on both days.  Come help! Say "hi". See what it's all about. Make phone calls. Go door to door.  Organize for Election Day!!!
We're optimistic about a Democratic Sweep for Ned Lamont and Susan Byciewicz.  Blumenthal and Courtney. We NEED to send a Democrat, Farouk Rajab, to the State Senate. We believe he'd serve Groton and Stonington far better than our current Republican Senator, who votes the Republican party line. 
Chris Conley and Aundré Bumgardner are eager to work together in Hartford to fight for Groton, Stonington, and New London.  Help them by putting up a lawn sign or two.  Ask your friends and family to put up a sign.  
NOVEMBER 8, 2022 On TUES NOV 8…VOTE BLUE!  We need volunteers to:
2. Stand/sit outside a poll for a candidate or the Democratic Team, 
3. Come to HQ to call our supporters and remind them to vote,
4. Take a set of candidate signs to a poll at 6 am.
5. Be locked into a poll at 8 pm to get results. 
6. Bring the volunteers at HQ some food & drink. Bring the candidates/volunteers at the polls some warm beverages & snacks. 
Please sign up at HQ, leave us a phone message or just SHOW UP if you can help in any way! We'd love to see you.
We'll do some "visibility" events and need people who'll gather at a busy street corner waving signs for our candidates! Sign up at HQ or call the HQ number and volunteer. We'll send emails to those who volunteer… announcing dates and locations. You come if you can.
NOVEMBER 8, 2022 On ELECTION NIGHT
Come meet us. Come at 8 pm to celebrate the victories with us.  If you see lawn signs for our candidates, pull them up and bring them to HQ after 8 pm…or in the days that follow. Help us clean up and move out of HQ Wed-Sat. The final out will be Sat Nov 12 at 10 am.  Questions call HQ at (860)460-8328.
We are fighting for Democracy, decency, integrity, voting rights, and women's rights, to save our planet, and save our children from gun violence, for health care & social justice… just to name a few key issues!