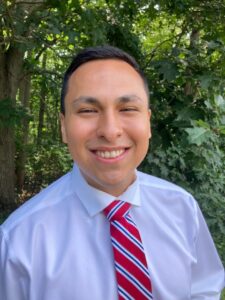 My name is Edward Jacome, and I am pleased to announce that I am running for Groton Town Council. I am a native of Groton, having been stationed here early in my childhood with my family. I have lived in Navy Housing and now reside in the City of Groton. I am a graduate of Fitch High School, class of 2014, where I then attended Norwich University and graduated in 2018 with my Bachelor of Arts in Political Science. I have recently worked at the Connecticut General Assembly as an Assistant Clerk for the Veterans' Affairs Committee.
I am currently on the Groton RTM for District two and a Parks and Recreation Committee member. I have enjoyed volunteering across Groton to hear from residents from all walks of life about what they think of our community. I think the community works best when they are involved and contribute, which led me to get involved. My interests are in economic growth, infrastructure, and conservation, to name a few.
I look forward to running for Town Council and hearing from residents on the phones and at the doors, and continuing my service to all of Groton. Hope to have your support!
Respectfully,
Edward Jacome
Follow me on Facebook at: https://www.facebook.com/Edward-Jacome-for-Groton-101429818918966/