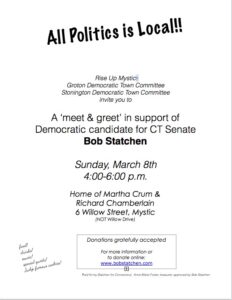 Rise Up Mystic
Groton Democratic Town Committee
Stonington Democratic Town Committee
Invite you to a "meet and greet" in support of Democratic candidate for CT Senate, Bob Statchen.
Sunday March 8, 2020
4:00-6:00 p.m.
Home of Martha Crum and Richard Chamberlain
6 Willow St. (not Willow Dr.)
Mystic, CT
Paid for by Statchen for Connecticut, Marie Foster, treasurer, approved by Bob Statchen.
Donations gratefully accepted.
For more information or to donate online, visit www.bobstatchen.com