Meet the Candidates!
Want to know more about the candidates running for office in the upcoming election? Read the candidate bios!
You're Invited!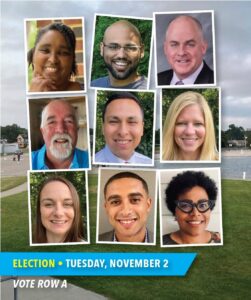 It's election time again! This year we elect our local government—Town Council, Board of Education, Town Clerk, RTM.
On September 19 we will have a "Grand Opening Party" for our Campaign Headquarters in the Groton Shoppers Mart. We'll provide snacks, drinks, and good company. We need you to meet our candidates and help us go forward to get our slate elected. Details below.
WHO: Groton Democratic Town Committee
WHAT: Democratic Headquarters Grand Opening Party with special guest Lt Gov Susan Bysiewicz at 2:00 p.m.
WHEN: Sunday afternoon, September 19, 2:00-5:00
WHERE: 937 Poquonnock Road (Groton Shoppers Mart between Chester's BBQ and Lee's Toyland)
NOTE: Masks required inside, social distancing encouraged. Donations of any amount will be gratefully accepted.
HQ hours: Wednesday and Saturday 10-12 and otherwise by chance. Volunteers needed to keep HQ open more hours. Come in on a Wednesday or Saturday morning to sign up.
Next Meeting
The Groton Democratic Town Committee meets on the fourth Wednesday of the month.
Donate to the GDTC
Make a secure online donation or if you prefer to send a check, please download our donation form and include it with your check made payable to the "GDTC" and mail it to:
John Wirzbicki
GDTC
355 Brook St.
Noank, CT 06340
Please 'like' our page on Facebook: 'GrotonCTDemocrats'
---
City of Groton Democratic Committee
(Districts 2 and 3, sub-division of the Town)
Biennial election held in May
Chairperson, Keith Hedrick
Vice Chair, Gweneviere Depot
Treasurer, Jamal Beckford
Secretary, Dane Stevenson
https://www.facebook.com/CityofGrotonDemocrats
P.O. Box 7311
Groton, CT 06340